Posted By :
Root
|
Date :
7 June 2009 |
Comments :
0 |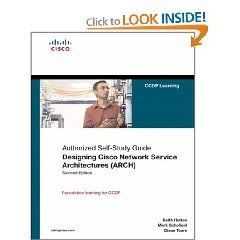 Product Description
Designing Cisco Network Service Architectures (ARCH), Second Edition, is a Cisco®-authorized, self-paced learning tool for CCDP® foundation learning. This book provides you with knowledge of the latest developments in network design and technologies, including network infrastructure, intelligent network services, and converged network solutions. By reading this book, you will gain a thorough understanding of issues and considerations for fundamental infrastructure services, including security, network management, QoS, high availability, bandwidth use optimization through IP multicasting, and design architectures for network solutions such as voice over WLAN and e-commerce.
Whether you are preparing for CCDP certification or simply want to gain a better understanding of modular campus and edge network design and strategic solutions for enterprise networks such as storage area networking, virtual private networking, advanced addressing and routing, and data centers, you will benefit from the foundation information presented in this book.
Posted By :
Root
|
Date :
7 June 2009 |
Comments :
0 |
The Best Fully Integrated Study System Available.
With hundreds of practice questions and hands-on exercises, RHCE Red Hat Certified Engineer Linux Study Guide, Fifth Edition covers what you need to know–and shows you how to prepare–for this challenging exam
Posted By :
Root
|
Date :
12 February 2009 |
Comments :
0 |
Cisco Networkers 2009 Barcelona Sessions | 950 MB
Cisco Networkers 2009 takes place from Tuesday January 27 to Thursday January 29, 2009. In addition, on Monday January 26, we are offering Cisco Networkers delegates the option of attending Techtorials and 4-hour Labs at the same venue, at an extra cost.