Posted By :
Saunt
|
Date :
13 June 2010 |
Comments :
0 |
<--dle_image_begin:http://i46.tinypic.com/2eqar1y.jpg|-->
<--dle_image_end-->
Digital Painting Fundamentals with Corel Painter X
Publisher: Course Technology PTR | ISBN: 1598634046 | edition 2007 | PDF | 255 pages | 13,4 mb
Digital Painting Fundamentals with Corel Painter X is an introduction to drawing and painting using a Wacom graphics tablet and the industry standard software
for pixel-based art. Each chapter is full of exercises designed to teach basic skills, such as eye-hand coordination. Easy-to-follow projects lead you from a simple,
still life sketch to drawing the human figure. Each lesson is designed for novices as well as artists who want to transfer their traditional skills to the computer.
You'll learn techniques for imitating natural media such as charcoal, watercolor, and oils. A wide variety of styles and subject matter is covered, ranging from
classic landscape to experimental abstract painting as well as mixed media portraits and caricature.
Posted By :
Saunt
|
Date :
21 April 2010 |
Comments :
0 |
<--dle_image_begin:http://i43.tinypic.com/dqzag.jpg|-->
<--dle_image_end-->
Corel Paint Shop Pro X Digital Darkroom
Publisher: Sams | ISBN: 0672328607 | edition 2006 | CHM | 288 pages | 6,2 mb
Corel Paint Shop Pro X Digital Darkroom is an easy-to-follow, tutorial approach to using Paint Shop Pro in exactly the way home users want to use it - to manipulate your own images in ways that a local photo lab often does to create both practical and comical projects. As you read, you will actually use the program to complete a variety of projects. You'll learn about key Paint Shop Pro tools almost without trying through both traditional and contemporary projects.
Indulge in shrinking the kids, performing digital plastic surgery, modifying vehicles, creating creatures the tabloids would love to profile, altering pets, creating trading cards and calendars, and combining images to create once-in-a-lifetime shots. Drop people into places they've never been and challenge Mother Nature with unique perspectives. Create holiday magic, photo montages, and even do some traditional photo manipulation. Author T. Michael Clark provides careful instruction that will allow you, whether you are a novice or experienced Paint Shop Pro user, to complete projects and enjoy your experience with Paint Shop Pro X.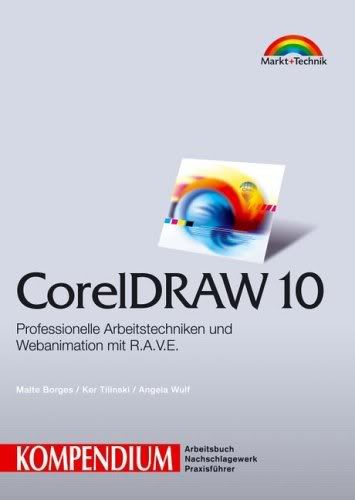 Malte Borges, "CorelDRAW 10 - Kompendium . Professionelle Arbeitstechniken und Webanimationen mit R.A.V.E "
Markt+Technik | 2001 | ISBN: 3827260043 | 1126 pages | PDF | 23,8 MB
Dieses Buch behandelt die Version 10 des meistverbreiteten Grafikpaketes CorelDRAW 10 mit all seinen Features. Anhand ausgezeichneter Arbeitsbeispiele vermitteln Ihnen CorelDRAW-Profis nicht nur Grundlagenwissen, sondern geben viele Anleitungen und Tipps zum professionellen und effektiven Einsatz des Programms. Besonderes Augenmerk gilt dem neuen Programm R.A.V.E., mit dem Sie jetzt Ihre Grafiken auch animieren und ins Internet bringen können. Die beiliegende CD mit Profigrafiken, elektronischem Glossar und vielen Arbeitsbeispielen macht den Umgang mit diesem Standard-Programm noch einfacher.